Welcome
Project PEARLS  Typhoon Haiyan (Yolanda) Relief and Rebuilding Efforts Update: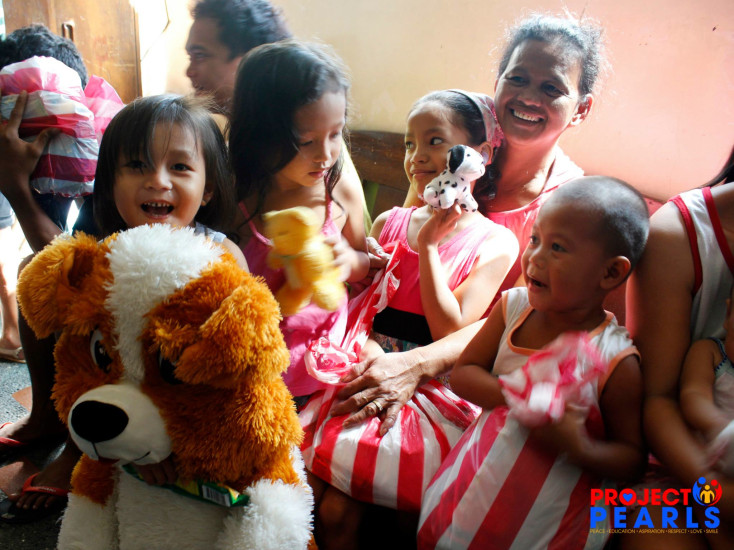 As of 11/30, Project PEARLS have raised almost $7923.69.  And we have a warehouse filled with stuffed toys, crayons, coloring books, cookies, candies and drinks for our Christmas Care Packages that we will be distributed to different areas affected by the typhoon Haiyan.
Funds collected will be used for the following: 1) Weekly Outreach (Feeding and Movie Showing) at Hospicio de San Jose in Manila for the typhoon evacuees from Tacloban who are seeking temporary shelter. Start date: November 20, 2013   2) 3000 Christmas Care Packages for the children who survived the typhoon; 3) 125 relief packs for families in Ormoc, Leyte. Each relief pack includes: 2 blankets, 1 mat/banig, toiletries (soap, toothbrushes, toothpaste), 10 canned goods, rice, bread, coffee sachets, candles, flashlight, medicine pack (paracetamol, buscopan, declogen, cough syrup). Distribution schedule is Dec. 11-13; 4) 10 fishing boats for families whose boats were completely destroyed by the typhoon in a fishing village in Iloilo. Start date: TBA  5) Relief goods for families in Julita, Leyte. Distribution date: TBA.  Photo shown was taken at Hospicio de San Jose; lucky girl got the biggest stuffed toy! 
To donate online, just click on the Paypal button below:
Please check our Facebook page for photos and updates: www.facebook.com/projectpearls1 
Project PEARLS focuses its outreach efforts in the slum communities in Tondo, Manila, particularly in ULINGAN and Helping Land. Both communities sit on a dumpsite where children have no choice but to live with garbage, mosquitoes, flies, and vermin. Children and families in Ulingan also live on soot and around toxic smoke from the charcoal factories.
Young children work either at the charcoal factories and/or at the dumpsite as scavengers. The common meal is "pagpag"(leftover food from fast-food restaurants scavenged from garbage sites) "Pagpag" means to shake away the dirt and maggots in the food.
This summer 2013, over three hundred Ulingan families were relocated to Batia, Bulacan by Philippine's Department of Social Welfare and Development and National Housing Authority. To ensure the successful transition of these families, Project PEARLS is extending its outreach efforts to these families. To learn more about the Philippine government's relocation program, click here.