We may not be an organization primarily focused on disaster-stricken communities, but it has been part of our advocacy to still lend a helping hand whenever we can. Through the spirit of Bayanihan in times of calamity, we aim to rebuild hopes and lives for those who need it the most.
Bayanihan para sa Bohol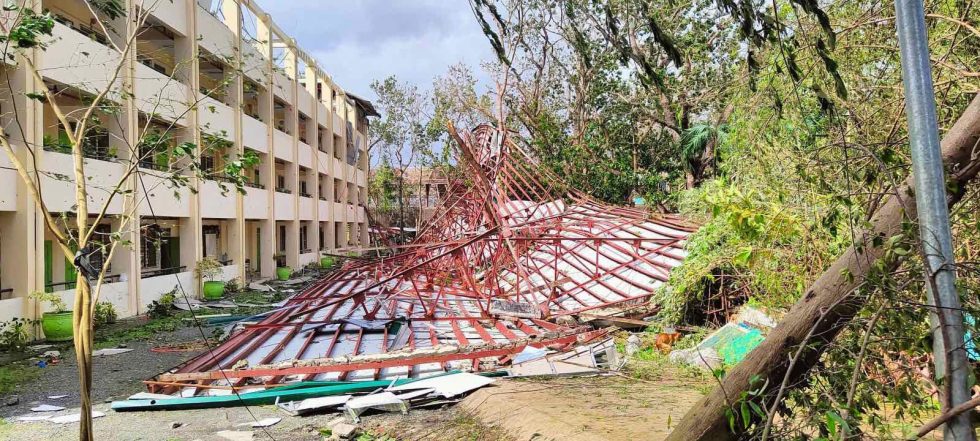 Through the spirit of Bayanihan, we're able to rebuild hopes and lives in times of calamity. On March 13-15, we served the children and youth in Bohol, Philippines!

Find out more.
BAYANIHAN PARA SA TAAL
The news of the Taal Volcano eruption sent shock, worries, and panic at the start of 2020. On January 12, Phivolcs raised the status to Alert Level 4. Because of this, thousands of families in nearby towns and villages were evacuated. It also caused millions-worth of damages to properties and agricultural lands.


As part of our Bayanihan initiatives, we volunteered with Art Relief Mobile Kitchen to cook and serve hot meals for affected families in Cavite. Last February, we conducted a cleaning operation at a school and church in San Nicolas, Batangas, and last March, we provided survival backpacks, meals, and gifts for elementary students, teachers, and elderly.

All these relief efforts were made possible by everyone who supported our fund-raising drives, both monetary and in-kind.


---
FIRE RELIEF OPERATION IN TONDO
Last April 18, 2020, a devastating fire hit the community of Temporary Housing in Tondo, Manila. The fire broke out just a few meters away from the Project PEARLS courtyard. Thankfully, the fire did not reach the courtyard and no casualties were reported. But it left around 4,000 people homeless.

As a response to this tragic incident, we gave assistance consisting of survival, dignity, baby, hygiene kits, and hot meals for 400 families together with our partners and donors who immediately responded to our call for donations.


---
TYPHOON RELIEF OPERATIONS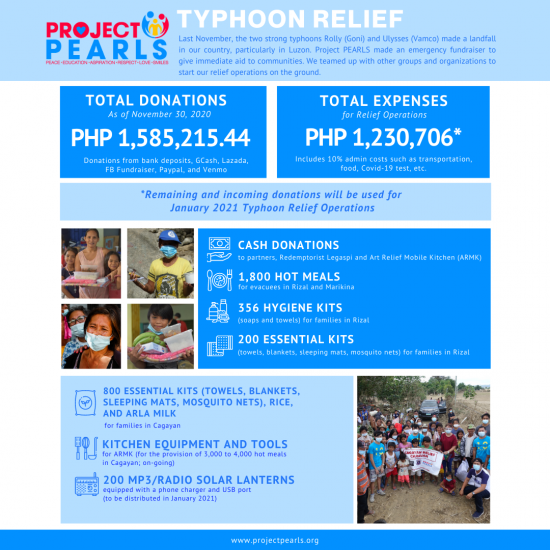 The Philippines was hit by two powerful cyclones in just four weeks last year – Vamco and Goni. These two devastating typhoons left many areas in Luzon submerged in water for days; dozens dead; millions without power and running water; and hundreds of thousands are homeless, hungry, and staying in different evacuation centers without any preventable measures from getting COVID-19.
We are very grateful to everyone who responded to our call of help for these survivors so they can rebuild their hopes and their lives!