Project PEARLS is deeply humbled and honored for all the awards and recognitions we have received over the years.
Project PEARLS receives Certificate of Recognition from City of Daly City, California USA
South African Embassy, Manila awards Project PEARLS Founder, Melissa Villa, the Women of Women's Month 2020
iVolunteer Philippines awards Project PEARLS Volunteer-Engaging Partner of the Year
iVolunteer Philippines recognizes Project PEARLS as Volunteer Engagement Champion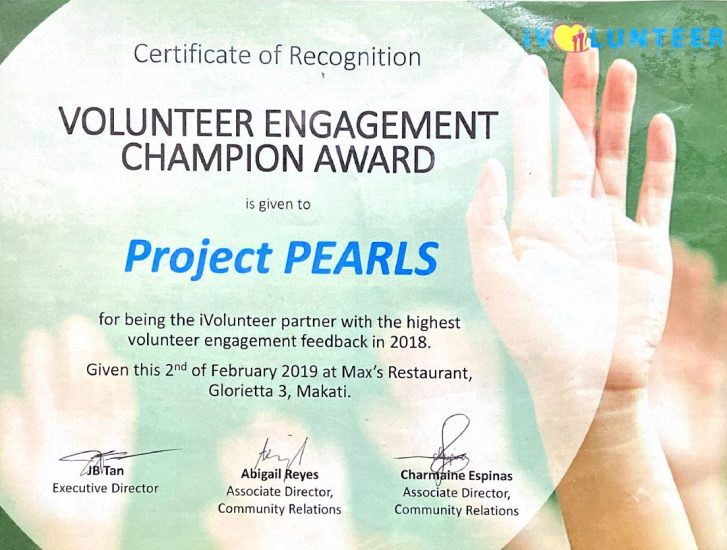 Project PEARLS receives Plaque of Recognition from Century Pacific Group – RSPo Foundation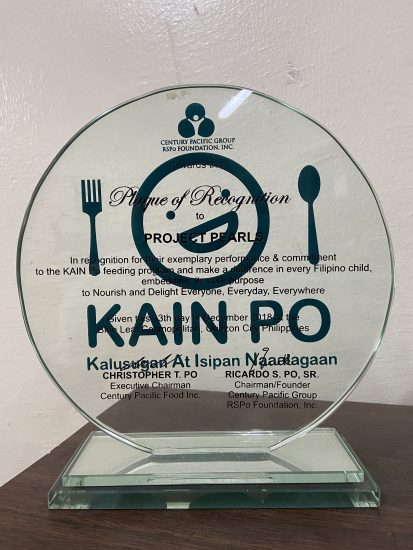 Archipelago Builders presents Certificate of Recognition to Project PEARLS
Project PEARLS receives Recognition Plaque from Department of Health and City of Manila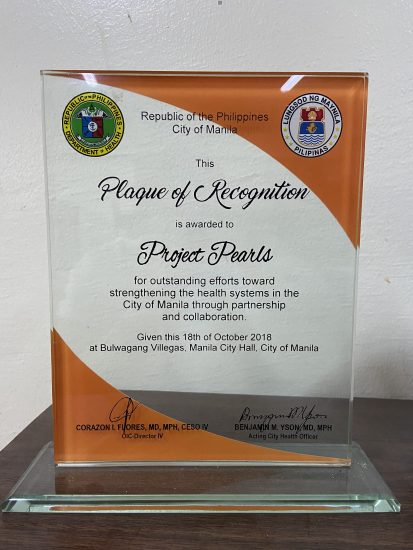 FEU Institute of Technology gives Project PEARLS Certificate of Appreciation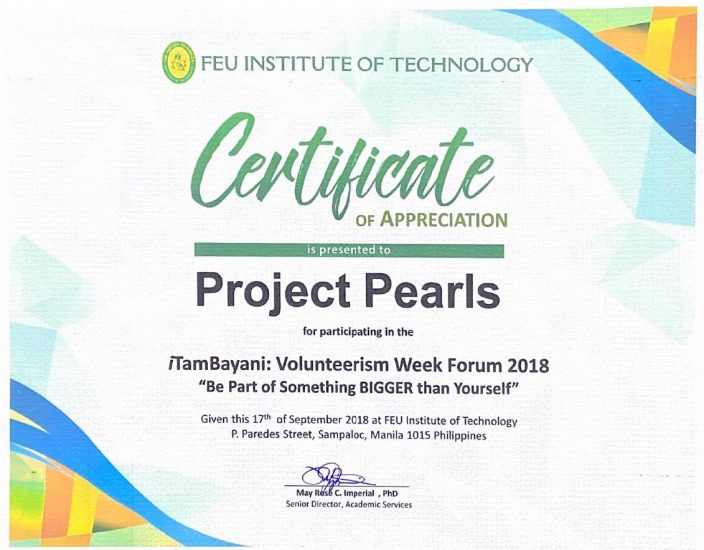 Project PEARLS receives Certifcate of Appreciation from Dasal Elementary School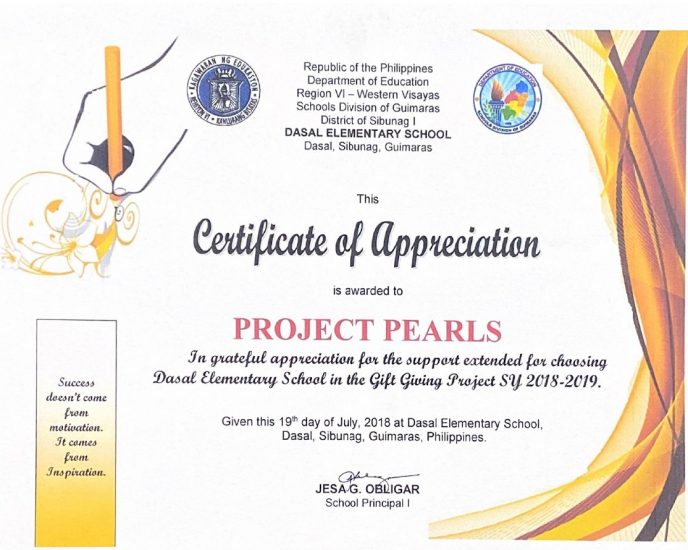 Project PEARLS receives We Are the Champion Recognition from Social Impact – Oracle Netsuite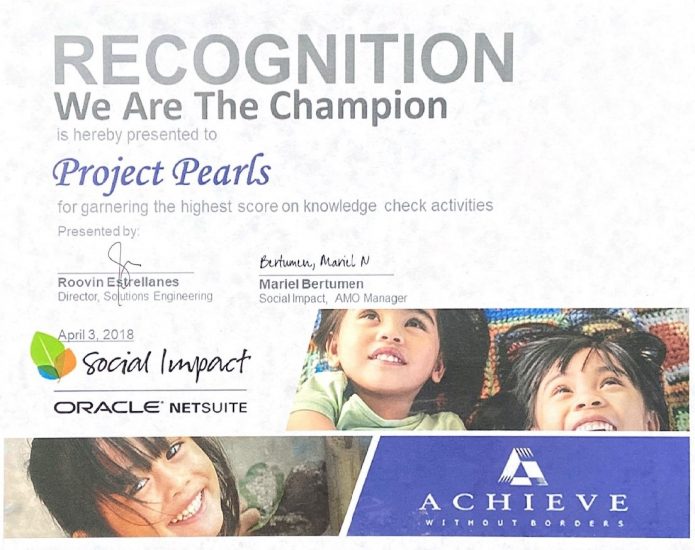 Project PEARLS Founder, Melissa Villa, receives the prestigious Albert Schweitzer Award at the World Literacy Summit in Oxford University
The Schweitzer Medal and Lectureship commemorates the Philanthropists Academic Albert Schweitzer who devoted the greater part of his life to providing medical and educational service in remote parts of Africa in the early 20th Century. Schweitzer was famed for his money raising activities as a concert organist and would spend part of each year on tour in Europe and United States to raise funds for his African Charity.

PRESS RELEASES:
World Literacy Council
Republic of the Philippines Department of Foreign Affairs
Philippine Academy of Medical Specialists Inc. presents Project PEARLS 12th Epic Award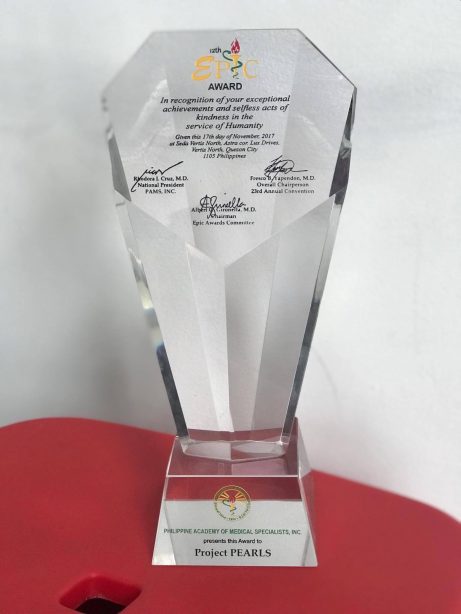 Project PEARLS receives Visionary in Action Award from Rotary Club of Makati Business District

2014 Jollibee-Coca Cola Global Pinoy Family Award
Melissa Villa, our Founder and her husband, Clif Wilcox, daughter, Francesca and brother, Juan Villa received the first Jollibee- Coca Cola Global Pinoy Family Award and a Special Citation in the field of Education.



The Jollibee Family Values Awards (JFVA) seeks to give honor to deserving families who best exemplify positive Filipino family values such as generosity, compassion, creativity, resourcefulness, love for the community, love for the environment, and strong ties, among other traits. They also provide selfless service to their communities and those in need.
PRESS RELEASES:
ABS-CBN NEWS
Philippine Consulate General in San Francisco / Kalayaan SF Committee 2014 presents Certificate of Recognition to Project PEARLS Founder, Melissa Villa

The Gawad Geny Lopez Jr. Bayaning Pilipino Awards
Project PEARLS was a finalist of Global Bayaning Pilipino-USA for continuing to set aside personal interest or gain for the benefit of their respective community. Imbued with a tireless pursuit for excellence in their endeavors and dedicating their lives in the service of the poor.
The Gawad Geny Lopez Jr. Bayaning Pilipino Awards is an annual search for ordinary Filipinos who have done extraordinary deeds that was envisioned by the late "Kapitan" Eugenio "Geny" Lopez Jr. to give the Filipino people real-life Filipino superheroes they can look up to and emulate.
Project PEARLS receives Certificate of Participation from De La Salle-College of Saint Benilde Center for Social Action