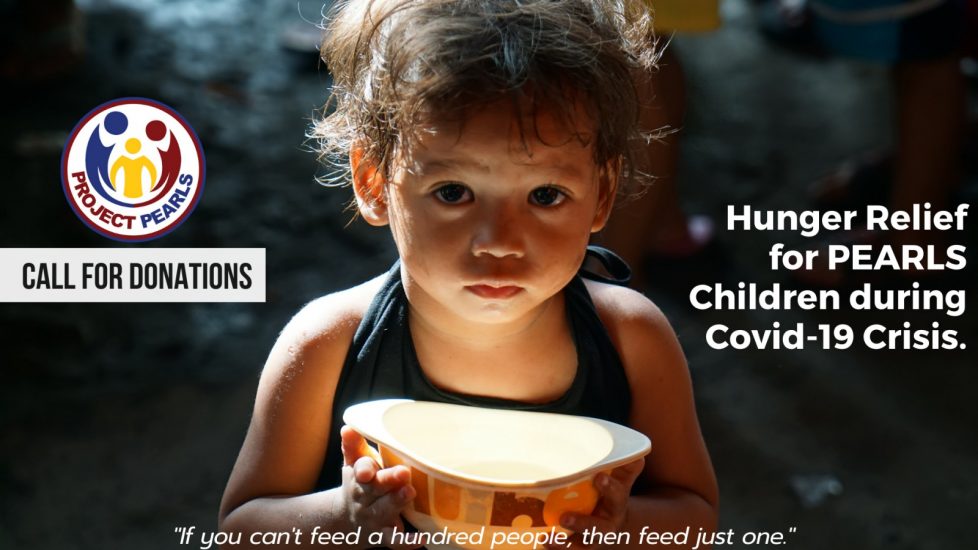 To our remarkable Project PEARLS Community,
This is an urgent message.  The coronavirus crisis and the current lockdown in the Philippines force children and families in our communities to starve. 
With the help of our community staff and volunteers, we continue to feed hundreds everyday. And everyday, at the slum community we serve in Tondo, Manila, lines of children, elderly, families are getting longer each day.
With the lockdown and stay home orders by the government, these families of garbage scavengers and blue-collar workers no longer have a source of income.
Please send in a gift today so that we can provide food everyday to the growing number of children (and elderly) who attend our Feeding Program in the slums of Tondo, Manila. Your gift will also help us provide groceries and care packages to our scholars and families including our community staff & volunteers in Manila, Bulacan, and Cavite.
Like many organizations, our budget has been negatively impacted by the COVID-19 crisis because of the shrinking pool of grant money. As a result, we do no have sufficient funds to provide for more children and families in this time of crisis. Your gift will provide instant hunger relief and safety for our communities.

Please send in your emergency gift today so that no child may die of starvation during this pandemic crisis. Thank you in advance.
With hopes for peace and good health to you all,

Melissa Villa
Project PEARLS Founder/Executive Director