Last August 2017, Project Pearls co-founder and Empire in the Air founder, Francesca Mateo visited the Philippines to be with the kids of Helping Land. But this time during her two-week visit, she was with her tenderhearted friends and Empire's partner, 'The Company', which is a dance group in the US.
Here are some of the outreach activities they did:
Joining the daily feeding program to volunteer.
Leading the selected kids with dance lessons so they will be able to present dance performances on our 7th Project Pearls anniversary celebration in Helping Land, Tondo.
Joining our team as we celebrated the Project Pearls 7th Anniversary at The Blue Leaf Filipinas in Paranaque.
Having a fundraising through dance workshop for the benefits of kids that Project Pearls is helping.
Distributing Cassie's Bag of Dreams to the kids in Batia, Bulacan.
Joining our outreach/medical mission and visit at our adopted community in Botolan, Zambales.
Thank you, guys! You are all amazing!
Here's the blog post made by Empire in the Air which was written by Francesca herself aka [email protected]
——————————————————————————————————————————-
"Art of Us 2017" Unfolded
– by [email protected] –
Welcome to Art of Us
A year-old idea recently came into fruition.
This idea revolved around giving the children of Project PEARLS a positive "outlet" from their harsh environments. Project PEARLS is an NGO that aims to alleviate children from slum communities out of poverty through education and health. Its main community is Helping Land of Tondo, Manila in which the children not only live in a garbage dumpsite but also depend on  garbage for food.
Over dinner in summer 2016, Bernie Bernacer of the Company and I discussed how a positive outlet for PEARLS could be art– or, more specifically– dance. What if we could show kids that dance has the power to help one cope through everyday hardships? We strongly believed that by providing tools to develop this positive outlet, it would divert these children from choosing rougher paths.
Also, mainstream dance in Manila isn't always age-appropriate. Kids copy what they see, including our Project PEARLS kids who already super duper love to dance. One of our goals was to show them that dance can be more– it can be an extension of who they are, what they feel, and what they strive for.
This idea grew as the Art of Us team did. Soon enough, Russell Banzon of The Company chimed in as well as [email protected],  [email protected], and [email protected] We further discussed how to stabilize the idea. We all agreed on the two goals, but how do we go about it? We then began planning a dance summit for Helping Land: The Company would pick three choreographers who would 1) host workshops for the PEARLS kids and 2) prepare them to perform for the Project PEARLS seventh anniversary celebration.
But who would those three choreographers be? After weeks of deliberation, The Company director Pat Cruz selected Jolo Cabrera, KJ Estudillo, and Melissa Batesting.
It is clear to see why the three are perfect candidates. In the video above, each one of them expressed how dance impacted their lives for the better and that they want to give the PEARLS kids an opportunity to experience that. Melissa said:
Dance is my refuge
and it could be the refuge that these kids need.
Just like that, Art of Us grew even more. We had our goals, we had our plan, and we had a set team. All we needed was the funding to make all the above happen.
That's how you– our supporters– became part of our Art of Us journey.
First, we at Empire in the Air hosted the "Art of Us" showcase this past February to fundraise (click here for recap) and it was a full house!
Then, in a course of months, generosity fueled Art of Us through GoFundMe and post-shares. As I said in the beginning, this year-old idea recently came into fruition. We owe a lot of that to you.
On August 11,  the three Company members and three Empire members arrived in Manila to unfold Art of Us from an idea into reality. And, from that day forward, strong relationships flourished between the Art of Us team and the Project PEARLS community.
Feeding Hungry Bellies
Regardless of photos and stories, the environment in Helping Land is difficult to fathom. It was the first time in the Philippines for Aiko and Mel, the first time staying in Manila for Jolo and KJ, and the first time going to the Philippines without family for Ray. Because my mom founded Project PEARLS, I find myself in Manila often. However, walking through Helping Land to reach the PEARLS learning center never gets easier.
Jolo admitted that walking through Helping Land put him in a state of shock and sadness. But, as we approached the PEARLS center, hope rose once the children's laughter and smiles surrounded us. It was as if we were entering a "sanctuary," he said.
Every time we entered the PEARLS center, each of us gained a role for this "sanctuary." The first role was to feed our community by participating in the PEARLS Daily Soup Kitchen:
For children living in extreme poverty, breakfast can be their one and only meal. A meal that can define if they will survive or not. This is a heartbreaking reality that Project PEARLS aims to change. Through our Feeding Programs, we want to provide a delicious and nutritious meal to children to help decrease the incidence of malnourishment.
Daily Soup Kitchen (Monday-Friday) in partnership with Feeding Metro Manila. This is done everyday in Helping Land, a slum community in Tondo, Manila. Helping Land sits on an active dumpsite and is home to hundreds of families whose main source of livelihood is scavenging from garbage.  Most of them fill their hunger by relying on "pagpag" – leftover food from restaurants scavenged from trash. In Filipino, "pagpag" literally means "to shake-off", and this refers to shaking the dirt, maggots, and flies off the edible portion of the leftovers.  Not only the children do not get the nutritional requirements they need, but they are also very prone to food-borne diseases which, often, can be fatal. (projectpearls.org)
KJ and Aiko distributing food alongside Cassie– a longtime advocate for Project PEARLS as well as a dancer for the Company's junior division APT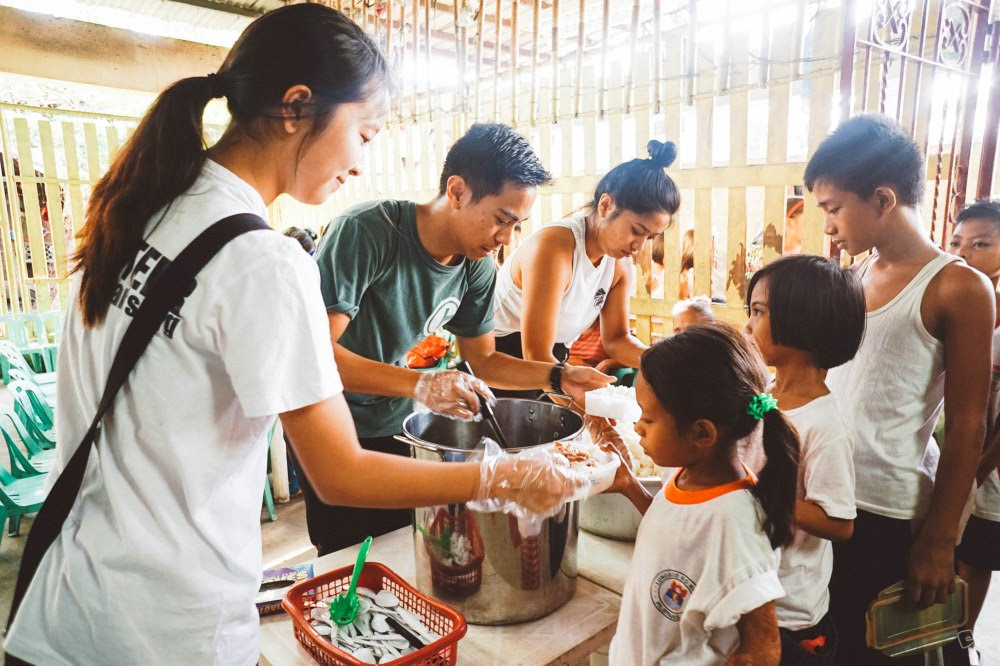 Jolo and Mel passing out meals as well with Cassie's mom, Tita Mailou.
My role during the trip was the acting liaison between PEARLS and Art of Us team. Thus, during the feeding, I was organizing our dance workshops with the PEARLS team, photographing this project unfolding, and… in all honesty, playing with the kids.
Ray, on the other hand, kicked off documenting Art of Us 2017  in video format. Be on the look out for the end product! *video coming soon*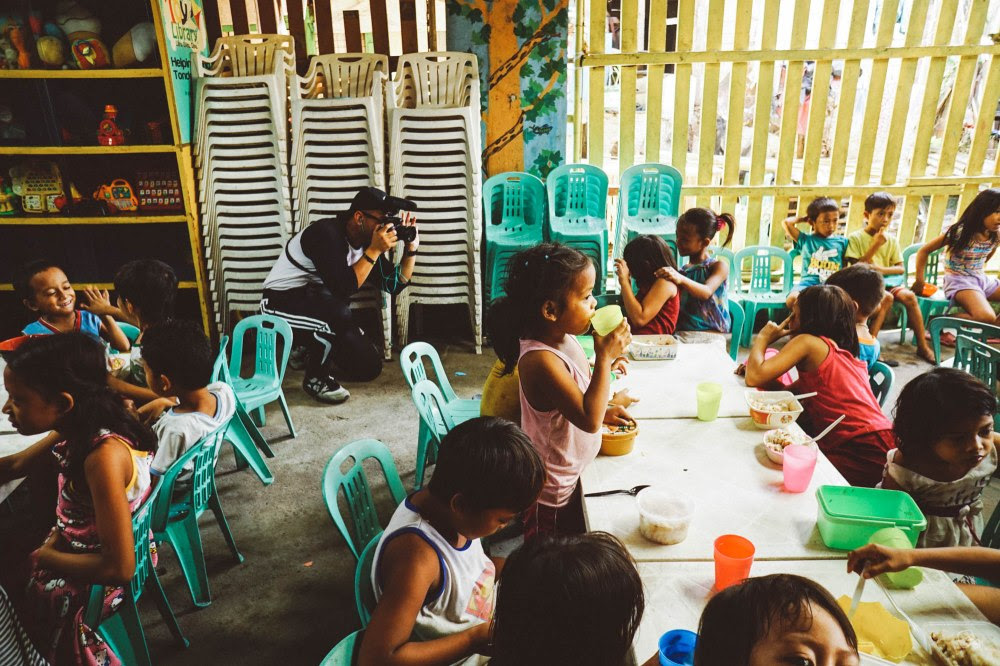 The dancing hasn't started yet but the fun already began!
FEEDING HUNGRY CREATIVE SPIRITS
After DSK, we would clear the learning center to transform it into a dance studio. The children were seamlessly drawn to Jolo, Mel and KJ as their dance teachers and their eagerness to learn kept our energies up. Also, upon seeing how our nanayvolunteers were excited for the dancing-dancingtoo, Aiko became their impromptu dance instructor.

To further recap the Art of Us dance workshops, I'll let the photos and our dance teachers speak for themselves. As you go through the photos, I want you to keep in mind that our dance teachers' Tagalog skills are limited. But, as I'm sure you could tell through the photos, the language barrier did not stop the power of dance and fun from connecting the dance teachers to their students:
TEAM JOLO
Feeling super fulfilled and grateful to be able to make a different in these kids lives even if I'm only able to take them out of their daily troubles for a couple of hours a day. Definitely puts life in perspective for me.
TEAM KJ
These kids… in just three days, we were able to put a small dance together but to be in their community and to be part of what they endure daily was an experience itself…
It was well said by Cassie but you think we are giving back to them by giving our time and presence to these children but they are the ones giving back to me tenfold. you think we are giving back to them by giving our time and presence to these children but they are the ones giving back to me tenfold. It's amazing to see how a simple art form can enlighten these kids who experienced a small distraction from their normal lives.
TEAM MEL
Whenever I find myself in a position to give back, especially to the younger generation, I feel completely in my element. I've found so much joy and purpose in teachingover the years and to be able to travel and work alongside the amazing Project PEARLS and Empire in the Air has been such a life changing experience so far.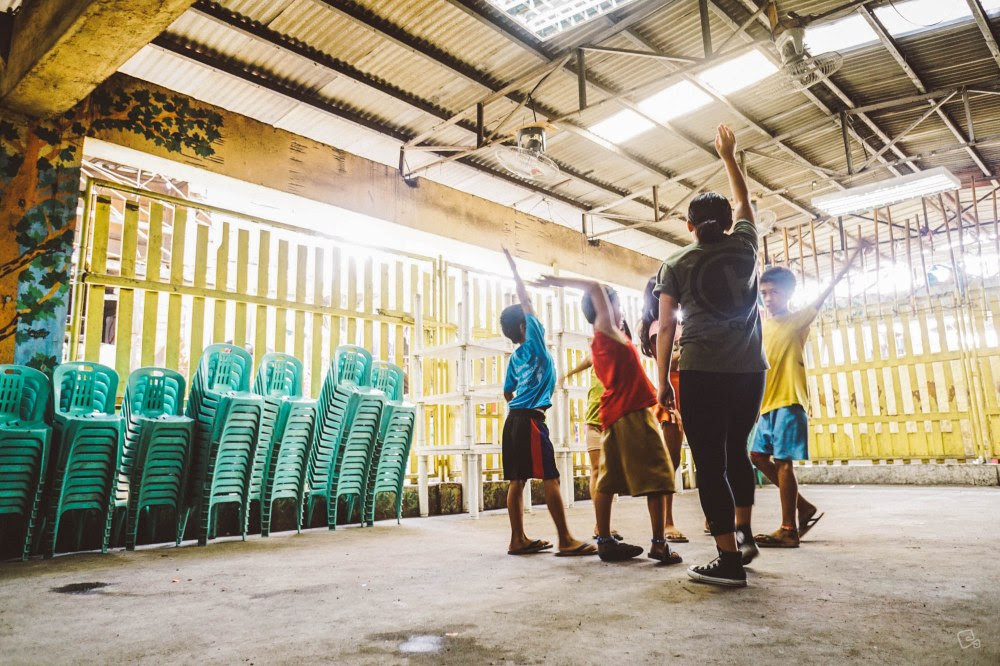 TEAM AIKO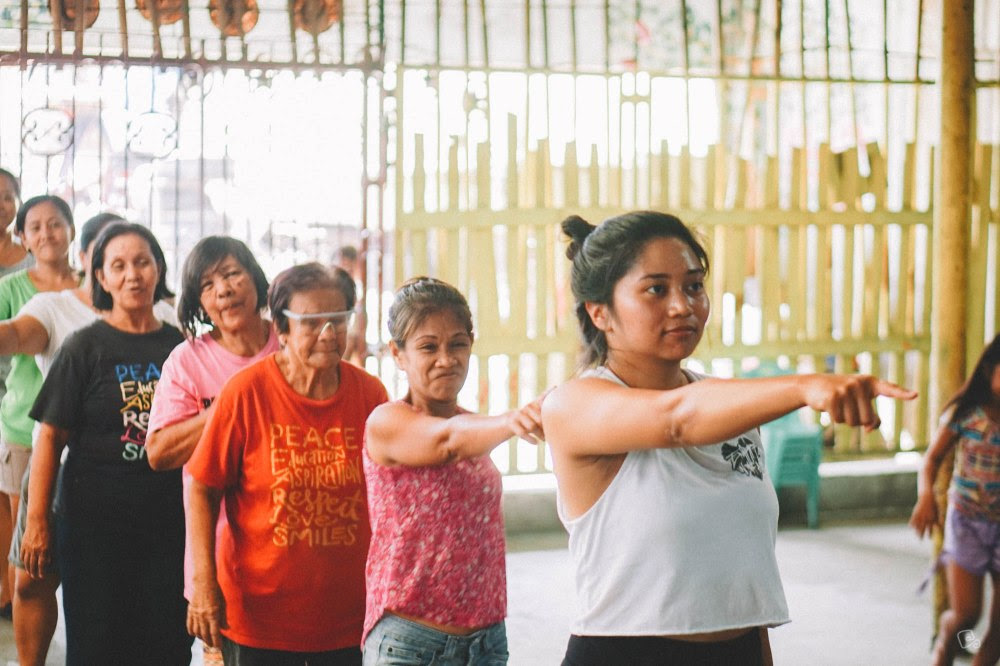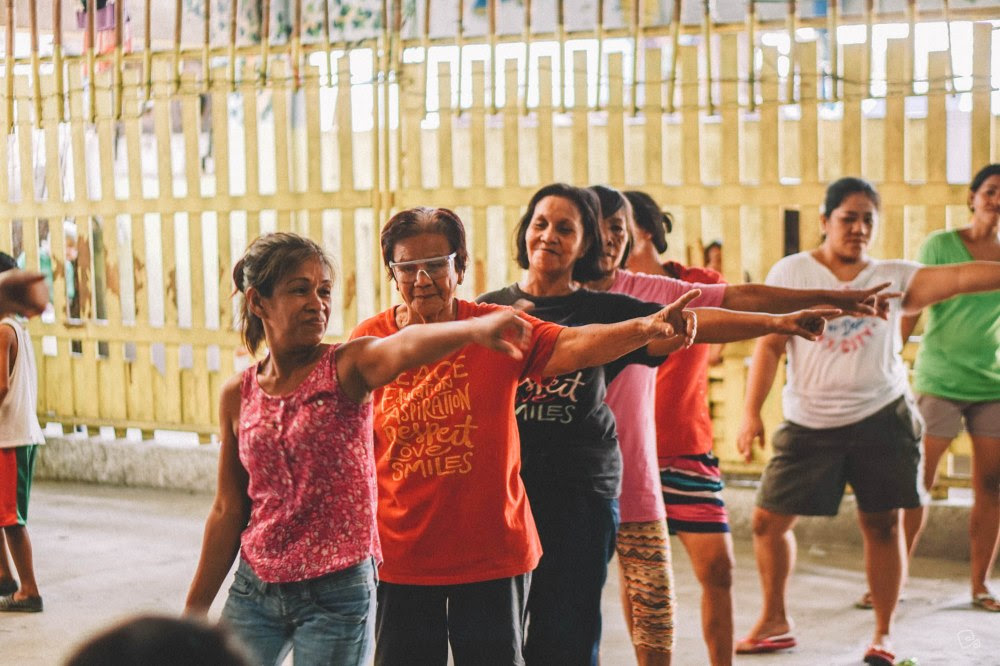 My experience with the tita squad was fulfilling and exciting. I have a soft spot when it comes to mothers, especially lolas. Growing up I saw how hard work it is to be a mother. Seeing them enjoying themselves and just having FUN is definitely the most rewarding part of this trip.
TEAM BONDING
Each practice concluded with simply hanging out. On top of developing relationships with their students, our dance teachers also grew attachments to them.
The night before the dance students big performance at the Project PEARLS Anniversary celebration, KJ, Jolo, Mel and Aiko went back to work. They decorated each and every one of their dance team members a t-shirt to wear for their performance.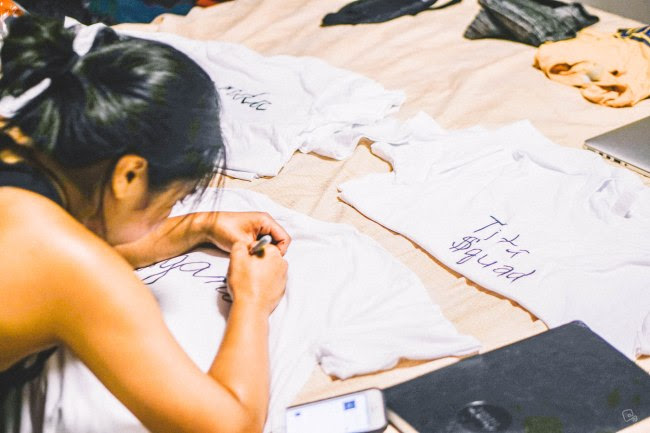 The Project PEARLS Anniversary Celebration
Out of all of our days in Helping Land, the Project PEARLS Anniversary Celebration was the biggest. It had more volunteers, more children, more nanays, more smiles, and even more energy for dancing.
THE FEEDING
As always, we begun the PEARLS day with feeding. This time around our Art of Us team joined their beginning prayer to wish them all a brighter future.
As happy as Jolo was to distribute the food
The kids were even more excited to eat!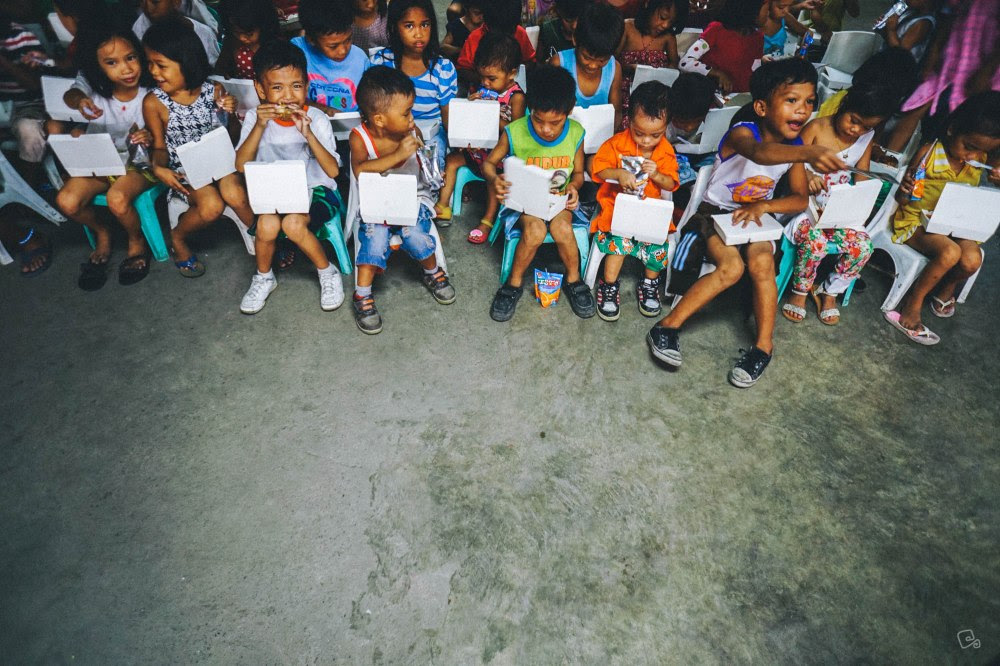 THE PERFORMANCES
And soon after our special feeding, performances kicked off for the Project PEARLS family of volunteers and community members. Up first were KJ, Mel, and Jolo:
Following the teachers' dances were the students':
TEAM KJ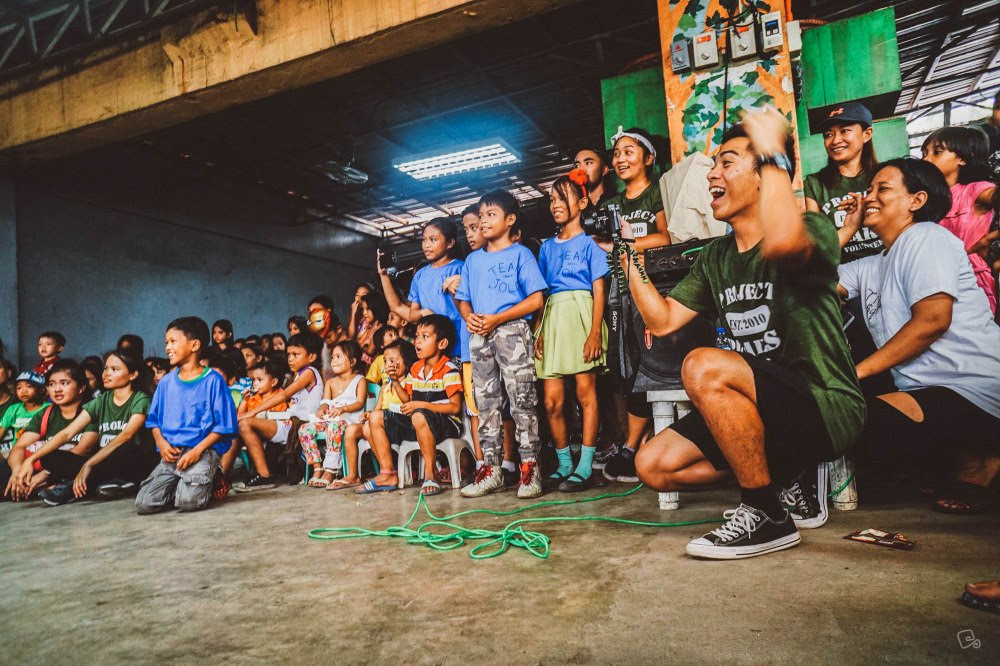 If you ever think you have it worse, I encourage you to take a step back and think about what you already have. Don't ever take a day for granted. And, if you have the energy and the life to show it, be compassionate because you never know how many lives you can touch around you.
TEAM JOLO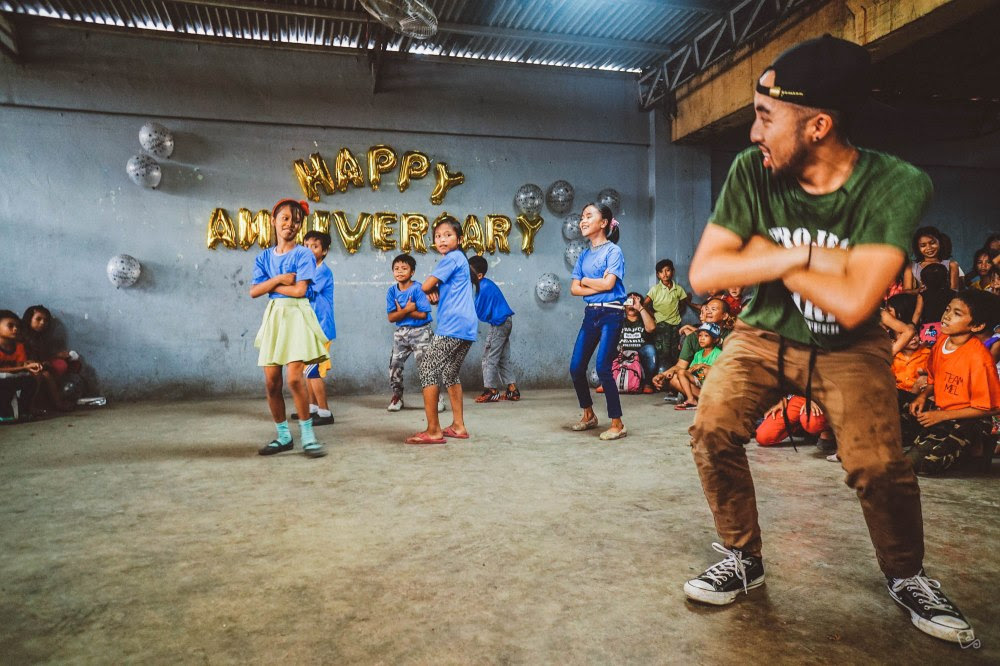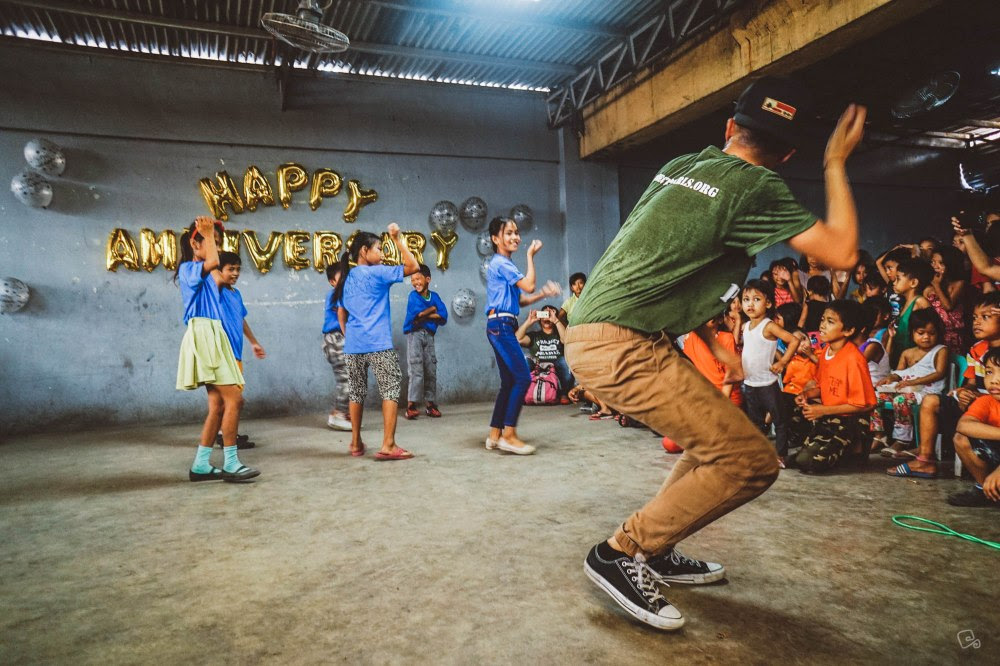 TEAM MEL
On our first day at Helping Land, we walked through and experienced first hand the harsh condition this community lives in. Project PEARLS, along with their many volunteers, provide a safe haven for these children and I feel so honored to have been a part of it all these past few days, and all the while build relationships with the children.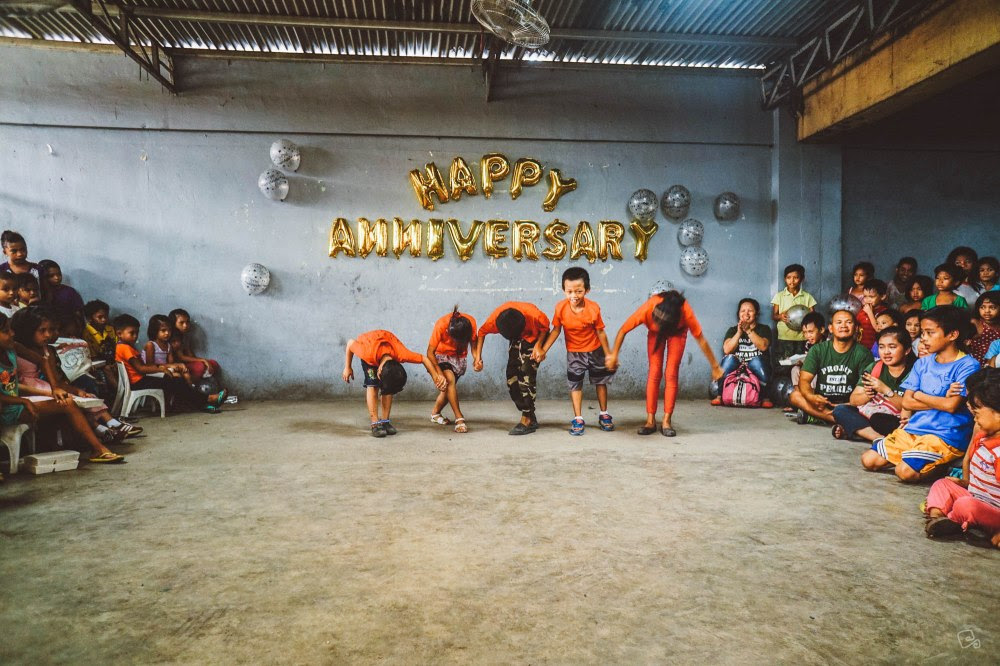 TEAM AIKO AKA TITA SQUAD AKA TEAM MAGANDA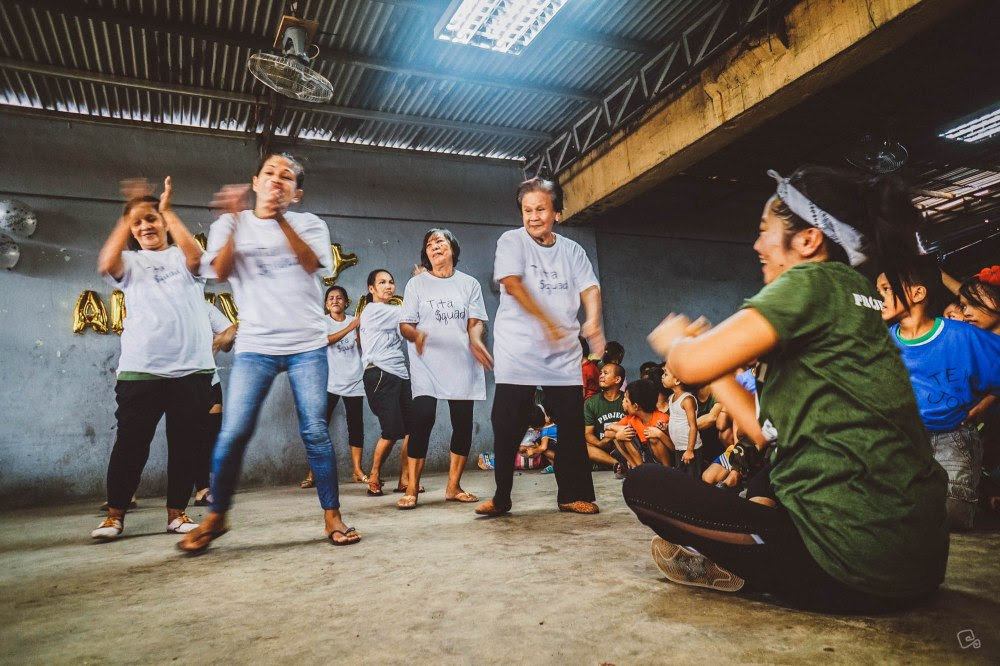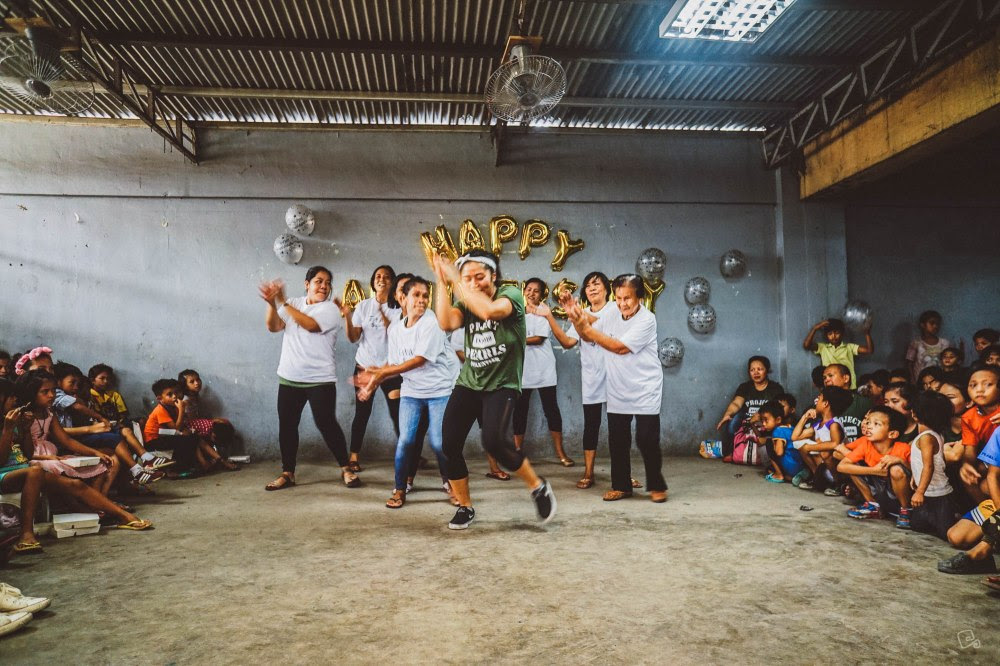 Just like the end of our workshops, we ended the celebration by hanging out with the kids and playing games.
The Last Day of Art of Us aka the Last Day in Helping Land
We came back to Helping Land for the last time a week later. KJ, Mel and Jolo's flight were scheduled that day but they wanted to make sure they could see their kids one last time. We had our usual fun with the kids but our morning was doused with an emotional goodbye.
The best part of our last moments with Helping Land was seeing the kids perform once again.
Within our week away from Helping Land, the kids taught each other the dances that Mel, Kj, and Jolo taught them.  Their hunger to learn and dance allowed them to work together for the best performance yet. If you ask me, the three groups dancing together validated the success of Art of Us.
Art of Us Unfolded
A year of planning and two weeks with Project PEARLS became an experience of a lifetime.
We arrived in Manila with two goals in mind: 1)provide the PEARLS children a positive outlet from their harsh realities  and 2) show the PEARLS kids that dance has the power to be an extension of themselves. We may have met the these goals but we are coming back home with a lot more. To quote Cassie and KJ once again, you think we are giving back to them by giving our time and presence to these children but they are the ones giving back to me us tenfold. 
On behalf of Ray, Aiko, Jolo, KJ, and Mel, I would like to thank all of you who have supported our Art of Us Journey. Again, without you, none of this would have been possible.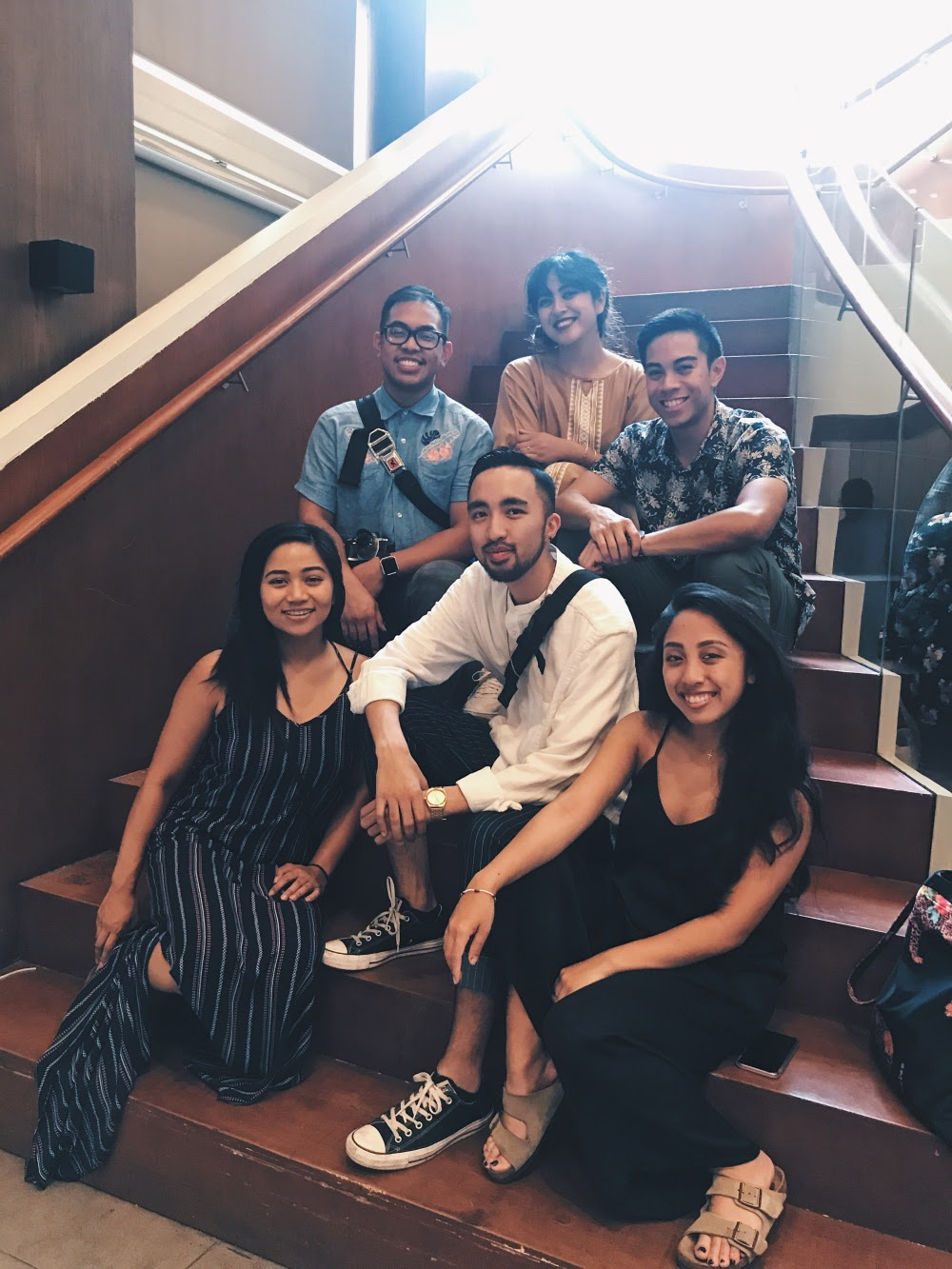 Thank you to our teams back home– The Company and Empire in the Air– as well as to our Manila family, Project PEARLS. Special shout-outs to Karen, Jay-r, Tito Nonoy, Monica, MaeMae, and Christine for the hospitality. Also, extra special shout-out to my mother Melissa Villa for entrusting us in creating this program.
To our loves of Helping Land in Tondo, Manila
We all hope to see you again soon