Last December, Project PEARLS shared love and joy to more than 2,500 children, and 1,000 families.
Filipinos are said to have the longest Christmas celebration. Once the "ber" months start kicking in (i.e. beginning September), everyone can already hear Christmas carols being played in commercial establishments. Households are slowly dressed up with red and green decors. This also the signal to plan the holiday getaways. And of course, everyone begins to think where to spend their much prized thirteenth-month pay. Indeed, it is the most awaited time of the year – and certainly the busiest holiday. While everyone is busy attending Christmas parties, and shopping for gifts for their loved ones, Project PEARLS is equally busy:
busy spreading love to thousands of children.
In December 2016, we were able to share the joy of Christmas to more than 2,500 children in different communities of Manila, Bulacan, and Zambales, and in Philippine General Hospital (PGH) and in Franciscan Sisters of the Sacred Hearts-Children's Home, Cebu City.
Sharing PEARLS: PGH Cancer Institute and Children's Home, Cebu City
Project PEARLS does not only reach out to underprivileged communities. We also try our best to bring
PEARLS
to children who are real-life warriors. Through the leadership of "House of Treasures", we joined other organizations in organizing a Christmas party for the children of PGH Cancer Institute last December 9.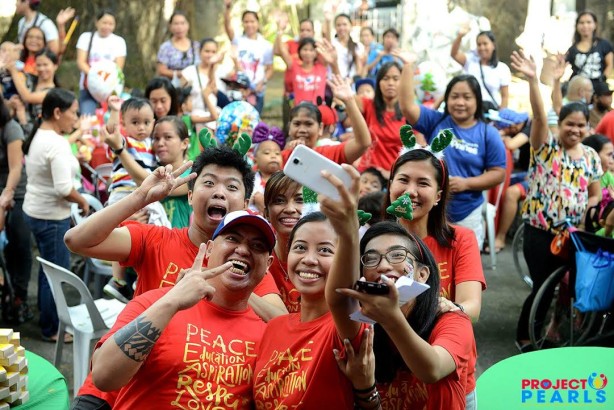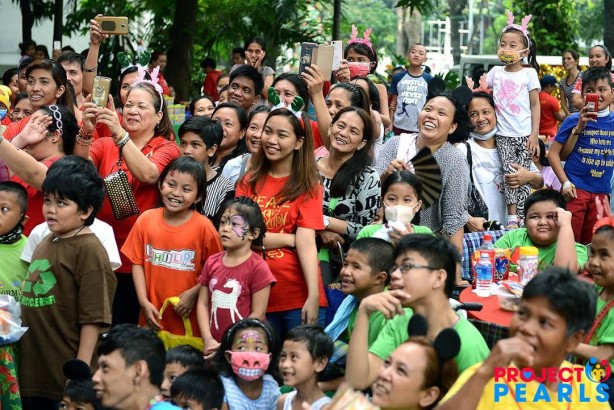 Kids and parents enjoying the magic show at the PGH Christmas Party
These kids are battling serious illnesses that are too much for their young bodies to handle. But on that day, we only saw genuine joy and hope in their eyes. They showed us that their strong hearts can overcome any physical weaknesses that they may have. The day was filled with magic shows, storytelling, fun games, face painting, and even free salon treats for the kids' parents! Everyone went home with bags full of Christmas goodies, and hearts full of happiness and love.
On December 28, Project PEARLS also visited the Franciscan Sisters of the Sacred Hearts-Children's Home in Cebu. Under the care and guidance of the Franciscan Sisters, these kids recover from different abuses that they have experienced. At their young age, they are true warriors who triumph over life's worst challenges. The kids warmly welcomed us with their special song and dance numbers. They were very grateful for the gifts that we brought for them, but we should be the ones to be thankful –
thank you to the Franciscan Sisters for inspiring us to focus on our mission, and to the kids who have shown us how to be resilient and hopeful for the future.
Project PEARLS volunteers with the children of Franciscan Sisters of the Sacred Hearts-Children's Home in Cebu City.
Sharing PEARLS: Tondo, Bulacan, and Zambales
It has been a Project PEARLS' tradition to share gifts for children, and Noche Buena packs for underprivileged families every Christmas. But the 2016 Christmas campaign is the biggest project we've had so far. In early November of 2016, we launched the
Christmas Toy Drive
to collect new toys from companies, organizations, and individuals. Because this was our first time to launch such program, we had no idea how people will respond to it. We also had doubts if we will be able to reach our target number of toys. Despite these uncertainties, we adhere to one simple mantra: "Believe in the magic of Christmas." And magic did happen. We collected more than 2,500 toys, and more than 1,000 families were set to receive Noche Buena packs under the
Adopt-a-Family Program.
We are grateful to all our partners and sponsors who supported our
Toy Drive
and
Adopt-a-Family Program
. They are the testament to the true spirit of Christmas.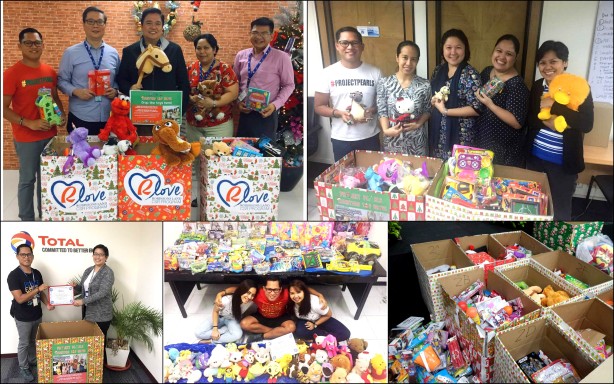 Through the support of different organizations, we were able to collect more than 2,000 new toys!
December 23, 2016.
More than 500 families received Noche Buena packs, and over 1,700 children received Christmas gifts in the PEARLS Christmas Party in Tondo, Manila. These families are from Smokey Mountain, Helping Land, Aroma, and Happy Land – some of the poorest communities in Metro Manila. Through this simple gift-giving activity, we want to show these families that they are not neglected, that they are loved not just on Christmas day, but whole year round.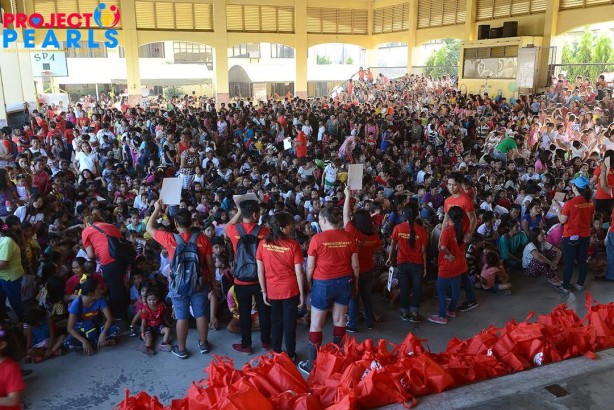 The Christmas party in Tondo, Manila is Project PEARLS' biggest event so far, with more than 2,000 people in attendance.

All smiles after the successful distribution of toys to more than 1,700 kids and Noche Buena packs to over 500 families.
December 24, 2016.
Since Project PEARLS adopted the Ulingan community in 2010, it has been a tradition to spend the day before Christmas with them. Now that they are relocated to Brgy. Batia, Bocaue, Bulacan, this tradition continues. More than 400 families and 600 kids received Noche Buena packs and gift items.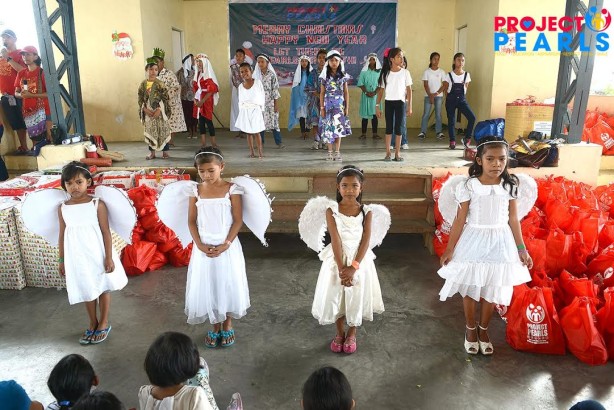 The angels of Project PEARLS performing a special number before the gift-giving in Bulacan.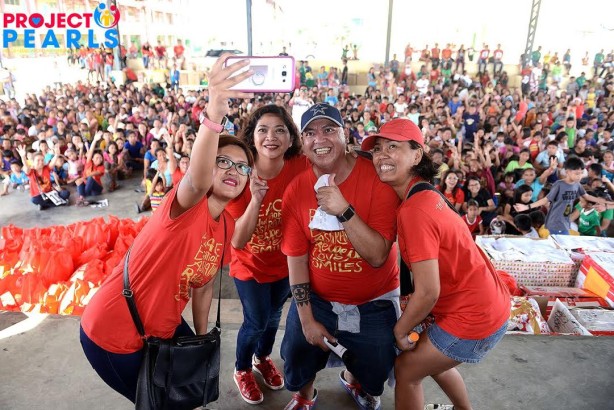 Melissa Villa, Project PEARLS' Founder and Executive Director, together with Board Members Peachy Abellon, Juan Villa, and Lut Vallefas, and hundreds of kids and parents.
December 30, 2016.
Three years ago, Project PEARLS first met the children of Lakas Elementary and National High School in Botolan, Zambales. Their warm welcome and loving smiles inspired us to commit a closer relationship with them. In January 2016, we established LitClub for the kids of the Aeta community in Botolan. And every Christmas, we make sure to visit them for a simple celebration loaded with games and gift-giving. Seeing the heartfelt smiles of more than 200 kids is worth more than the six-hour drive to Zambales.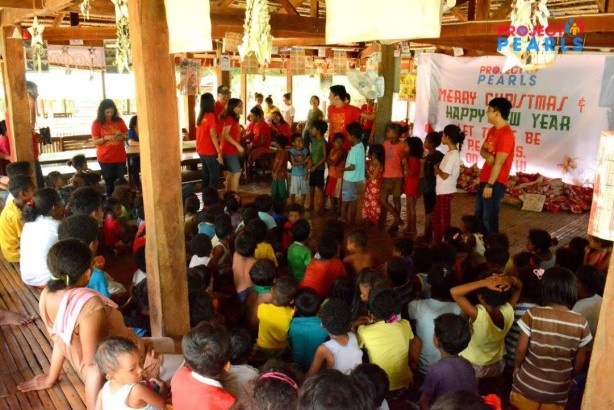 The children of the Lakas community in Botolan, Zambales getting ready for the games.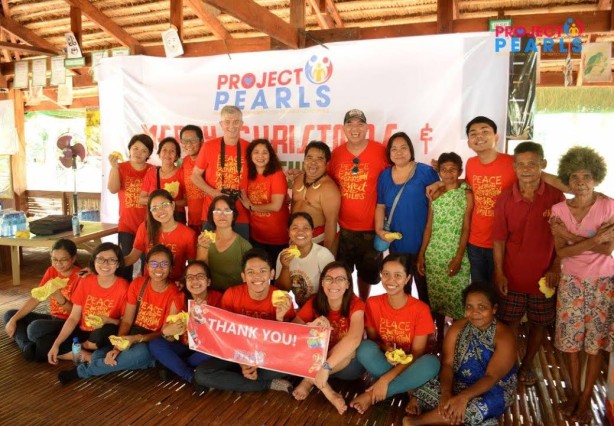 Project PEARLS volunteers with Kuya Carlito (middle), leader of the Aeta community, and the teachers of Lakas National High School.
These will not be possible without the support of different organizations and individuals who have made Christmas truly magical. In the midst of the holiday rush, we hope that we will not forget its true significance:
sharing love, peace, and joy to everyone.
Our deepest gratitude to the following for their unwavering love for the PEARLS kids:
LBC Express | RFM Foods | Carol Maralit | Adrian Soco | Cassie Eng | Jade Trinh | Tao Commodity Trader, Inc | Robinsons Land | Students and Parents of La Salle Greenhills Grades 2 and 5 | Makati Development Corp.| Telus Philippines | Cedar Crest Condo | Antel Sea View Towers | De La Salle Araneta University Student Council | One Castilla Place | IVolunteer | Sundance | Bacolod Chicken Inasal | Total Philippines | Makati Hope Christian School
"Adopt-a-Family" Fundraisers:
Carol Maralit | Jeanette & Peter Marco | Mike & Alta Seludo-Nguyen | Chen/Scherer Families | Bella's Plates of Hopes (Bella Salangsang and Family) | Cassie Eng
"Adopt-a-Family" Sponsors:
8990 Housing Development Corp. | CS Foundation | Kalea Lorren Pitel | EJ Litton Foundation | Friends & Relatives of Jim & Tana | Whitey & Marissa | Ralph & Gia Suarez | Santen | Peter Kennedy | Cassie Eng | Bella's Plates of Hope | Kara Su | Maria Chen | Che Bendicion-Secillano | Dra. Joy Ty Sy | Ninong Manolo and Ninang Marie Escueta | Ninong Romy and Ninang Luz | Uncle Jun and Auntie Belen | William and Susan Bendicion | Roy,and Damien Secillano | Mark Joseph Layugan | Geert Hendrickx | Raquel B | Friends of Lopez Family | New Day Recovery Center | Ferdinand Bilstein | Cholo and Goni Tagaysay | Nans Tiongson | Renee Casiño | Maritz & Wesley Ramos | Mavic Paulino | Christine & Gil Coscolluela | Shawie & Edmond Gozo | Cecil Gonzalez | Dawn Aquino | Jennifer Nuque | Matt Divehall | ACHS 1986 | M.Gamboa | William & Marcy Brandenburg | Jeri Fujimoto | Puline Amoranto | Mike Advani | Francesca Mateo | Mark Gerald Ong | Melanie Sta Maria | Monica Araneta | Drs. Chito and Betty Quiambao | Peter Carney | Jessica Beltran | Anna Schaffer | Mary Dawn Pedroso | Jenzen Jill Sy | Sr. Carmelita Gamulo | Arthur Swanson | Ma. Regina Estandarte | Feranil Family | Camila Soriano | Debie Dubal | Marie Chile Pajarillo | Rona May Villanueva | Huiwen Milligan | Raenon Benitez | Diana Caban | Grace Houser | Melissa Santos | Dr. Myrla Del Mundo Duque | Shawna Gibson | Allaine Siason | Kevin Miller | Mario Suarez | Manny Castillo | Faye Moncada | Jaclyn Danh | Harry Nguyen | Jade Trinh | Matt Divehall | Maria Fatima Estaris | Martin Mari | Glenn Galang | Minnete Quimson | M. Drabkin | Rose Fructuoso | Fely Belo | Annabelle Vitti Valenzuela | Bill Schaming | Miguel Benedicto | Melissa and Derik Poquiz | Marolynd Aganon | Jonathan Block | Ralph Robledo | Marites York | Jay and Aly Katzenmeyer | Rita Mia |P Melissa | Tina Rina MiaT Barbie Christine | Maia & Maison Cortes | Tom Nguyen | Suzette Tan | Tiffany Belzer | Elijah/Cheryl Holmes | Jennifer Syjuico | Julie Ann Davis | Marilou Mendiola | Ant and Jessica Cross | Anne Berdos | Ann Margareth Eufemio | Brio Blancaflor | Bertha Grace Lucena Quitangon | Cyrin Bird | The Callicotts | Marilou Mendiola | Regine Rogers | Aya Fernandez | Bong Garcia | Genevieve Balbido | Cam, Avery and AJ Palos | John Stewart | Concepcion Adea Flores-Cole | Rock Ubamos | Lany Vargas | Deb and Roger Avedon | Samuel Johnson Uy | Ralph Lim | Roxanne Villare | Peñaranda Family | Atty Mae Flores | Rita Canchela | Bong Consing & Family | Jean Tajonera Fisher | Stephanie Or | Simone Pardorla | Noelle Roy | Amelia Barretto | Mario Borrego | Rosa Willock | Mark Warlters | Francisca De Zwager | Holly Lamb | Rex Peñaranda | Marian & Bobby Reyes | Nurse Manuel | Gloria Yu | Leia Morris | Clint Palaypayon | Carlton Robinson | Julie Fokeman | Ma. Luz Javier | Jose Alberto Javier | Rebecca Dizon | Ma Teresa Antonio | Jayesh Jyotishi | Grace Camaganacan | Alfaro Family | Jess And Mayette Garcia | Jeanette Marabut | Jessica Kwok | Rich Salangsang | Marifel Juan-Inocelda | Arsenia Abuan | Diane Ong | May Cuenca | Guia Manzana | Wendell Bagain | Elizabeth Tinagan | Sonia Quinn | Josephine Guingona | Van Enriquez | Julianna Enriquez | Santen Inc. | Gladys Lee | Hazel Cabral | Vince Carreon | Grace Wang | Melanie Sta Maria | Brian Kim | Cynthia Sim | Hilary Diaz | Racquel Austria | Aimee Julio | Mikee Ngo | Diane Sacay | Carina Entera | Jameel Carla Masingkil | Manny & Kits |  Jay Escobar | Mark Gregory Elloso | Ann Elloso | Lawrence Gerona | Maria Belen Palaganas | Daniel Sundar Van Ommen | John Roos | Francis Carl Reyes | Joan Arvi Acuzar | Laila Soliven | Vickie Marquez | Caroline Maralit | Theresa Chrisciel | Vandana & Vivek Rao | Armina Ortiz | Atea Rose Ortiz | Erma L. Miranda | Rodel Joselito Manabat | Ella Cantrel | Ria Rasalan | Lester Pederson | Imogene Raypon | Carol Tanjutco | Lisa Cendalski | Brandi Morrison | Heather G Shay | Becs Domingo | Moira Figone | Emelyn Leung | Jennifer Leones | Peter Wieme | Pieter Marchant | Teresa Mercado | Valentino Themistocleous | Luckyannahlaine Luna | Hailey Allenman | Leilani Carvajal | Armalie Vic Virata | Cecil Abella | Edison Diaz | Evelyn McFaden | Glenna McHoes | Jeanette Bocobo | Catherine Jison | Dean Jison | Josephine Payawal | Brandi Williams | Linden Anders | Pilar Payawal | Aurora Dela Rosa | Manuel Payawal | Daniel Van Haecke | Anna Pand | Marilyn Lewis | Mary Pacpaco | Nadia Barcklay and Family | Lori Archie | Teresita Ong | Victorina Roque | Angustia Antonio | Ruby Llamas | Pilar Topacio | Thelma Ballat | Frances Ong | Pia Guerrero | Monette Quiogue | Fara Campos | Michelle & Marlon Magbag | Hay Brothers | April Berro | Emperatriz Rabat | Hazel Te | Raquel B| MNM dlC Ramos | Tupas Family | Maxine Garcia | Jertie Abergas | Arlene Cerda | Amarjit Kaur | Dirickso Family | Grace Dizon | Shan Faye | Frederick Fabre | Bernadette Medina | Agnes de la Plaza | Tina Lucuab | Flor Jose | Astrid Acielo-Sister & Family | Anne Cathleen Dela Cruz | Ryan Sandagon | Jason Terre | Mark Mao Tao Yi | Carmina Reyes | Micah Janelle Dy | Arvin Espiritu | Czarina Aiko Enriquez | Erin Galido | Achilles and Lucas Perez | Janelle Monsanto | Emalou Monsanto | Teresita Mabules Batz | Adrian Sibal | Maryanne Pablo and Family | Antonette De Castro Asprec | Joy De Vera | Sherril Salangsang | Alvin Salinas | Alta Seludo | Monica Lennon & Family | Maria Alfred | Bong & Gina Bautista | Tinette & Cio | Paul Cabral | Mailou & Harry | Maan & Louie | Jim Jam | Bunny Reyes | UP College of Medicine Batch 1966 | Clarice Teves | Maan Flores | Nerissa Espinosa | Jonathan Block | Leilani Tan | Sarah Aurelio | Jake and Mamer Dumagan | Maemae's Med Friends | Sheila Meiy Flores | Faye Corcuera
To see more pictures of all our Christmas events, visit the following links:
Annual Christmas Party at PGH (Dec 9, 2016)
https://www.facebook.com/214803281880001/photos/?tab=album&album_id=1586292521397730
https://www.facebook.com/214803281880001/photos/?tab=album&album_id=1586299368063712
PEARLS Christmas Party in Tondo (Dec. 23, 2016)
https://www.facebook.com/214803281880001/photos/?tab=album&album_id=1608954732464842
https://www.facebook.com/214803281880001/photos/?tab=album&album_id=1608976505795998
https://www.facebook.com/214803281880001/photos/?tab=album&album_id=1608989639128018
PEARLS Christmas Party in Bulacan (Dec. 24, 2016)
https://www.facebook.com/214803281880001/photos/?tab=album&album_id=1616127181747597
https://www.facebook.com/214803281880001/photos/?tab=album&album_id=1616139198413062
PEARLS Christmas Party in Zambales (Dec. 30, 2016)
https://www.facebook.com/214803281880001/photos/?tab=album&album_id=1617874764906172
We hope you all had a wonderful holiday season!

"LET THERE BE P.E.A.R.L.S. ON EARTH!"