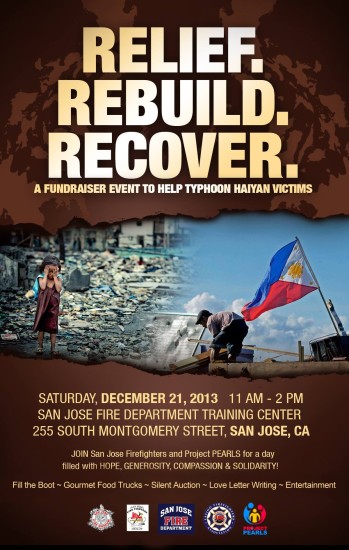 Please join Project PEARLS and The San Jose Firefighters of California for a day filled with Hope, Generosity, Compassion and Solidarity to help the survivors of Typhoon Haiyan Rebuild and Recover!
Saturday, December 21, 2013 from 11 am to 2 pm at the San Jose Fire Department Training Center located at 255 South Montgomery Street, San Jose.
There will be a silent auction and Firefighter's Fill the Boot Campaign with 100% of the proceeds will go to this relief effort!
Gourmet food trucks will also be at the event: Sam's Chowder Mobile, Tastee Bytes, Chutney Mary's, Soulnese, Blast Of, Cluck it Up, Smothered, Treatbot and many more! They will donate some of the sales proceeds to this cause!
Join our Project PEARLS volunteers in writing letters of love and hope for the children and families who survived Typhoon Haiyan (Yolanda) and its aftermath!
Photo credits: Pedro Gerardo and Froilan Gallardo