Originally posted on Wednesday, 06 April 2011 by Cessna Monge-Papas on The Philippine Online Chronicles (thepoc.net)
The little girl sits on wooden planks in the middle of a rubble, wearing a sando two sizes too big. She is coated in soot and grime from head to toe, but her hands, clutching an empty sack, are dirtier. She must be no more than seven, yet she has tired eyes. The child is a charcoal worker.
That was a photo of a girl in Ulingan, Tondo posted on Facebook by a Manila-based Belgian photo journalist, Sidney Snoeck. Melissa Villa was viewing the photo in her home in Pacifica, California, but the girl's woeful stare transcended miles and time zones and Villa found herself shedding copious tears. "It haunts me to this day," she says. "[I thought] I must help her and the children of Ulingan."
Sitio Damayan is a slum community in Tondo more popularly known as Ulingan, after the charcoal factories that dot the area. An ulingero earns an average of Php 40 to Php 70 a day, forcing the children as young as six years old to work as charcoal workers, coal packers or scavengers to augment the family income. Dust, smoke and fumes are everywhere that Dennis Villegas likens Ulingan to an inferno. "[It is] a surreal place… Everything in Ulingan is an anomaly…Surely, some animals live better!" he says in an article.
Thus began the stream of medical missions and outreach programs to the children of Ulingan by Melissa Villa's Project PEARLS, acronym for Peace, Education, Aspiration, Respect, Love and Smile. A registered non-profit organization in California, Project PEARLS is "a small group of family and friends who share the same mission and passion of trying to make a difference in the lives of the poorest of the poor children in the Philippines." With the help of Photo Kalye, a group of photographers aiming to raise social awareness on poverty through photos, and volunteers here and abroad, Project Pearls has donated food, first-aid kits, books, school supplies, clothes, shoes and toys.
But Villa felt compelled to do more. "I grew up in Caloocan City where poverty is all around my neighborhood. I thought I have seen it all until I set foot in Ulingan. The destitute plight, the hazardous environment these children live in are surreal. I panicked and was overwhelmed by a sense of urgency to help these children."
"Someday is not an option; waiting for the government to help is not an option. Our mission to feed and nourish these children is URGENT!," she emphasizes on the website.
First on her agenda was a new daycare center that is "safer and more comfortable" to replace the dilapidated one in the community. The project came to fruition in November 2010, thanks to the support of "families, friends and kind strangers."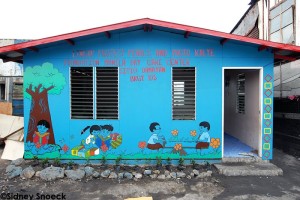 Several fundraising events have also been organized for the benefit of Ulingan children. The most recent is "Super Friends," a benefit concert starring renowned celebrities such as Sofia, Mike Chan, Top Suzara and Nyoy Volante held in Off The Grill Bar and Restaurant in Timog, Quezon City. All proceeds went to the Water and Sanitation Project in Ulingan. The project aims to provide public toilets and clean water to the community which currently has only one water outlet and practically non-existent hygienic facilities.
The Hot Meal Program was implemented last January 9, 2011 with the help of Photo Kalye led by its president, Peegee Silo. Rice porridge with chicken and quail eggs was served to over a hundred children in the community. Pansit, sopas, champorado and pan de sal were served on subsequent feeding schedules. The program now runs every Saturday morning under the supervision of Project PEARLS lead volunteer, Juan Villa.
The Pearls Scholarship has been launched recently to benefit qualified students of General Vicente Lim Elementary School in Tondo, Manila. The scholars will receive Php 7,200 worth of annual school fees, uniforms, shoes, books, a bag with school supplies and allowances for transportation, food, school projects and school field trips. "These scholarships will not only ease the economic burden of their families but, more importantly, will also encourage our children to strive harder with their education and to dream bigger," Villa writes on Facebook.
She further explains, "I truly believe that giving them access and tools for education will give them a better chance to get out of poverty."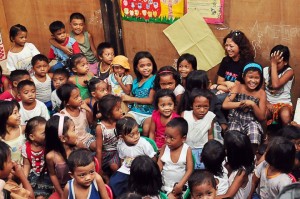 Villa's untiring efforts in Ulingan have attracted the attention of individuals equally passionate in extending a helping hand to impoverished Filipinos. Villa shares, "Last March 26, almost twenty nurses volunteered and most of them pledged to be our regular nurses for our future medical missions. With this pledge, we may be able to have a monthly medical mission."
Project Pearls volunteers Sherril and Ron Salangsang and Bernie Malaluan are organizing the Playground Project, where a playground for the Ulingan children will be built right beside the new daycare center. "Nothing is more powerful than the imagination of a child; a playground can provide a perfect place to harness all that vibrant energy and imagination," the volunteers share on Facebook. Included in the plans are two swings, a slide, and a rock climb.
Illac Diaz II, the founder of A Liter of Light solar bottle lighting project, has also promised to cooperate with Project Pearls. "He has already donated 200 solar bottle lights to our "Ilaw sa Ulingan" Project," Villa eagerly shares on Facebook.
Project Pearls welcomes volunteers, and would appreciate help in the form of sponsorships, donation in cash and in kind, and involvement in their events and outreach programs.
While it is apparent that the children of Ulingan are the ones gaining from these endeavors, the volunteers reap intangible benefits as well. Israel Tarlit, a Project Pearls volunteer writes, "It's really not about the kids – it's about us – the people who see people in need and would do something about it… It's always great when people come together to just serve!"
And Villa couldn't agree more. "The PEACE, EDUCATION, ASPIRATION, RESPECT, LOVE, SMILES we have shared with our children at Ulingan and their families are our huge accomplishments," she writes on the website.
Little girl in Ulingan and Project PEARLS Daycare Center by Sidney Snoeck. Melissa Villa and Ulingan children by Melissa Villa. All photos are published with the owners' permission. Some rights reserved.