Upcoming Events
Below are fundraiser shows which will be giving benefit to Project PEARLS!
We thank all our partners for the support and generosity! 
DFC Headquarters Community Center
3rd Year Anniversary Celebration on February 24, 2018
"Gather round, gather round, three years ago, DFC HQ was born! Yes it was February when we had our grand opening and filled up our community center from the window to the wall 😉
Seriously, check out the footage: https://www.youtube.com/watch?v=3_GwrJSwAUI
From all of us here at Dancing for a Cause Headquarters, we invite YOU to our 3 YEAR CELEBRATION!
In collaboration with prominent San Francisco dance team, The Company, we will be donating all proceeds to Project Pearls!"
To get into classes there will be a fee, which we will then donate to Project Pearls, so if you wish to donate a little more, you are more than welcomed, in fact, encouraged to do so!
We will be hosting a lineup of incredible choreographers to ensure that you all enjoy some great training all while supporting this beautiful cause.
GIVEAWAYS
Misfit Dance Camp 2018 Scholarship Award
*Must attend all classes to be considered*
https://www.misfitdancecamp.com/
**More Giveaways TBA**
LINEUP:
TBA
1pm………..Darius Brown X Rachel Gladney
2:45pm……Michael Garcia X Lil Black
4:30pm……Jolo Cabrera X Vince Chan
6pm………..Pamela Parra X TBA
7:45pm……Kaylee White X Krista Barnard
9:30pm……Tanjim Rahman X Andrew Nguyen
SHOWCASES
TBD
1.
2.
3.
4.
5.
GENERAL ADMISSION AT DOOR:
***PRICES ON DAY OF EVENT***
$45 donation – Full Day + Event Shirt *limited availability*
$35 donation – Full Day
$20 donation – 3 Classes
$10 donation – 1 CLass
EARLY BIRD DONORS
***ACCEPTED UNTIL 5PM FEBRUARY 23RD***
$30 donation – Full Day
Venmo @dfcheadquarters for full-day access
description must read: Project Pearls DFCHQ
Thank you all for an incredible 3 years. We hope DFC HQ has made your proud and continues doing so as the years continue. Our mission is to unite the dance community while facilitating a strong learning environment. We all, collectively, make a huge difference!"
Thank you in advance to DFC HQ for organizing this fundraising event for the benefit of Project PEARLS!
—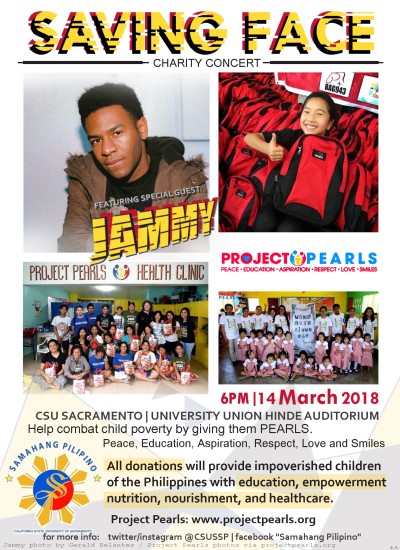 Samahang Pilipino
 "Saving Face Charity Concert" on March 14, 2018
Samahang Pilipino at California State University has a mission to promote Filipino culture, history, and awareness for issues that affect local and Filipino communities. Saving Face is their annual event  where they have various performers showcase their talent to help collect donations for non-government or non-profit organizations.
And this year, they chose Project PEARLS to be their beneficiary! This event will be on March 15, 2018 at CSU Sacramento | University Union Hinde Auditorium, California, USA.
Thank you in advance to Samahang Pilipino for choosing Project PEARLS as the beneficiary for this annual event!
Share and Enjoy