Special Events
Below are fundraiser shows and projects benefitting Project PEARLS!
We thank all our partners for the support and generosity!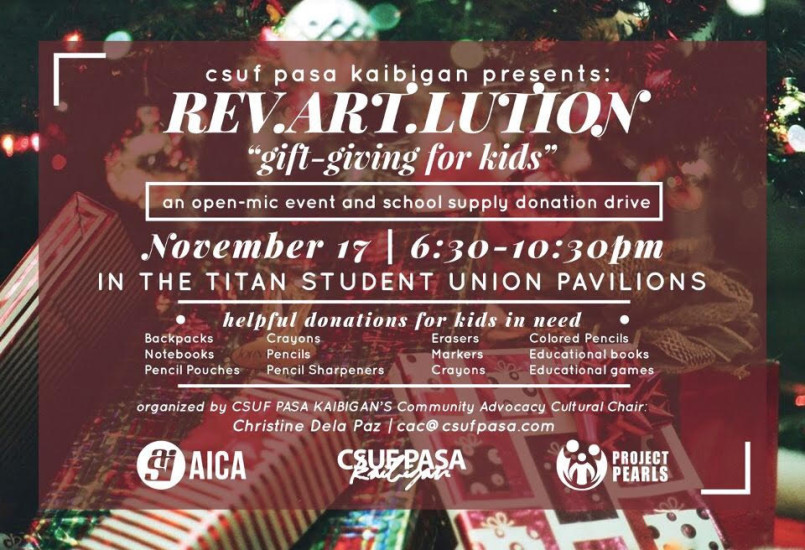 CSUF PASA Kaibigan presents REV.ART.LUTION "Gift Giving for Kids"
CSUF PASA Kaibigan is ready to give smiles to children for Christmas this year!
We are all inviting our friends and families and supporters from California to attend this benefit concert/open mic and art exhibition event on November 17, 2016, 6:30-10:30pm organized by Christine Dela Paz and the rest of her friends from CSUF PASA Kaibigan!
All proceeds and the donation of school supplies that will be collected will benefit our Scholarship Program and Adopt-A-Family Program this coming Christmas.
We hope to see you guys there! Thank you CSUF PASA Kaibigan!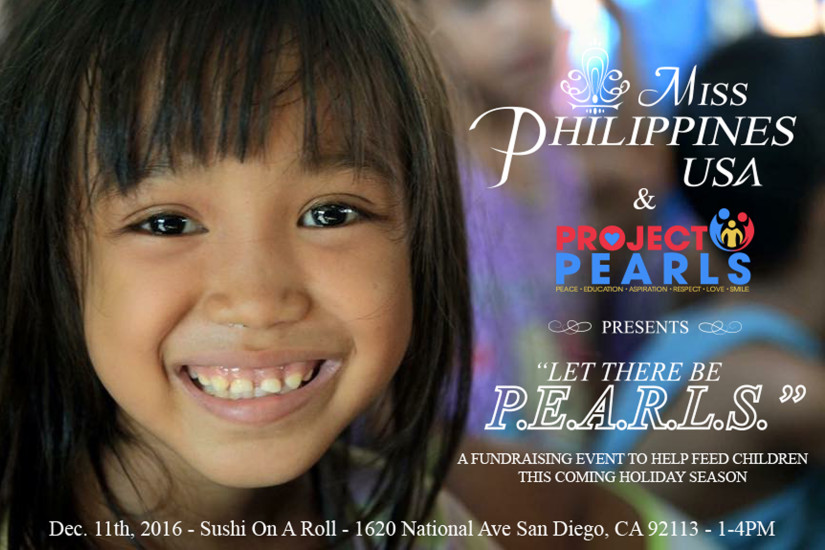 Project PEARLS & Miss USA-Philippines presents: "Let There Be PEARLS"
We are inviting all of our friends from San Diego, California to join us on this special fundraising event organized by Miss Philippines-USA Kalea Pitel on December 11, 2016 1:00-4:00pm. Proceeds will go toward our programs for the children this coming Christmas season.
We hope to see you there and let's make a lot of children smile this Christmas! Thank you so much Kalea!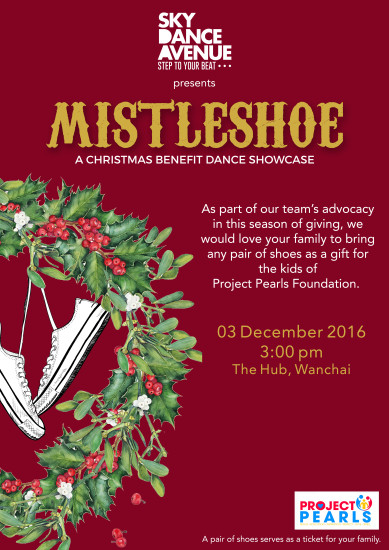 Sky Dance Avenue presents "MistleSHOE"
Teacher Sky Bautista and her students from Sky Dance Avenue in Hong Kong will be holding a benefit Christmas dance showcase entitled "MistleSHOE" where the students will be performing their pieces in front of their friends and families. Each students' family will be donating shoes to be able to help the less fortunate children in the Philippines to dance to different walks of life with their shoes on.
Watch these students groove for the benefit of children living in extreme poverty on December 3, 2016, Saturday at The Hub, Wanchai, Hong Kong. Thank you so much Teacher Sky and the students of Sky Dance Avenue!
Share and Enjoy